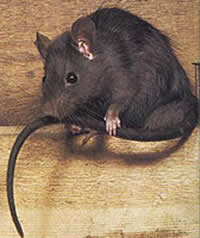 Irate residents beat up two nurses as rat bites of babys nose
October 7, 2008
Two nurses at Kasama General Hospital were this morning assaulted by an angry mob after word went round that a baby who had its nose bitten off by rats at the hospital last Saturday had died.
And police have since arrested six male adults for allegedly assaulting the two female nurses from the labour ward whom they accused of practicing Satanism.
Both Northern Province Health Director Dr. Fabian Kabulubulu and Northern Division Police Commanding Officer Charles Lungu have confirmed the incidence to Zambia News and Information Service.
Dr. Kabulubulu who dismissed the Satanism allegations said trouble started this morning when the baby who still on a resuscitator stopped breathing and word went round that it had died.
It was then that a group of people mobilized themselves and accused the nurses of being Satanist before pouncing on them and started beating them.
The two helpless nurses, one of them a Catholic nun where then dragged to Kasama Police Station by the irate crowd.
The unruly conduct by the mob prompted other health workers to down tools as a protest and only resumed work after they were assured by management that the matter was being addressed seriously.
Dr. Kabulubulu explained that the baby who was born flat and had to be resuscitated had its nose bitted off and part of the skin on top of the mouth by a big rat shortly after it was delivered as its mother was also unconscious and had to be resuscitated.
He said it was unfortunate that the community was making Satanism allegations out of the incidence when one of the patients in the ward had confessed having seen a big rat on top of the baby before he alerted other people.
The PHD has since appealed to members of the public not to take the law into their own hands saying if they had any complaints, there were channels to follow.
He has also assured the public that the hospital will continue providing services and also addressing their concerns.
He revealed that efforts to rid the health institution of rats have been stepped up to avoid.
Dr. Kabulubulu also revealed that plans were underway to refer the baby to University Teaching hospital (UTH) tio have its nose reconstructed once its condition stabilizes.
Last week, a body of a still born baby had also parts of its body eaten by rats.
And Northern Province police commanding officer Charles Lungu said Police have intensified security at the general hospital to avoid the disruption of services.
Mr. Lungu who confirmed the arrest of the six people who assaulted the two nurses also confirmed that Police last week opened a docket following a complaint of tempering with a dead body.