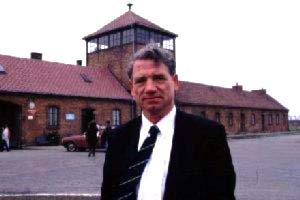 Whatever you do, don't think against the grain........ you will be punished. Your thoughts are not your own.
_____________________________________________________
'Holocaust denier' Gerald Toben arrested at Heathrow
An alleged Holocaust denier has been arrested after flying into London's Heathrow Airport.
By Aislinn Simpson Last Updated: 3:54PM BST 01 Oct 2008
German-born Australian national Dr Gerald Fredrick Toben, 64, was detained by the Metropolitan Police extradition unit using an EU arrest warrant issued by the German authorities.
The founder of the Adelaide Institute, a web and print publication that questions the Holocaust, he is
accused of publishing material on the internet "of an anti-Semitic and/or revisionist nature" that "denies, approves of or plays down the mass murder of Jews by the Nazis".
The arrest warrant alleges that Dr Toben committed the offence in Australia, Germany and other countries.
In a disclaimer on his website, Dr Toben writes of his work: "If you wish to begin to doubt the Holocaust-Shoah narrative, you must be prepared for personal sacrifice, must be prepared for marriage and family break-up, loss of career, and go to prison.
"This is because Revisionists are, among other things, dismantling a massive multi-billion dollar industry that the Holocaust-Shoah enforcers are defending, as well as the survival of Zionist-racist Israel."
In the past he has denied that he said that the Holocaust was a "lie". He has previously been convicted in Germany of inciting racial hatred.
In 2006, he was among a group of Holocaust academics who attended two-day "Review of the Holocaust: global vision" conference organised by President Mahmoud Ahmadinejad of Iran, who caused international outrage by describing the Holocaust as a "myth".
He is due to appear at City of Westminster Magistrates' Court in central London.
http://www.telegraph.co.uk/news/worldnews/australiaandthepacific/australia/3116061/Holocaust-denier-Gerald-Toben-arrested-at-Heathrow.html
________________________________________________
Of Course the Jews are out for blood....
________________________________________________
UK parliamentarian backs Holocaust denier
Oct. 6, 2008jonny paul, jpost correspondent in london , THE JERUSALEM POST
A British parliamentarian has said that Gerald Toben, the Australian Holocaust denier arrested and remanded in London last week at the request of German authorities for publishing "anti-Semitic and/or revisionist" material, should not be extradited to Germany.
Toben appeared at the City of Westminster Magistrates' Court in central London on Friday afternoon where he was remanded in custody ahead of a bail hearing this Friday and a full hearing on October 17.
Speaking on BBC radio on Saturday, Liberal Democratic home affairs spokesman Chris Huhne said that Holocaust denial is not a crime in the UK and that British courts should refuse to act on a European Union arrest warrant requesting Toben's extradition to Germany.
Toben was arrested by British police en route from the US to Dubai last week. The EU arrest warrant issued by the German authorities states that he carried out "worldwide Internet publication" of material that was "anti-Semitic and/or of a revisionist nature; deliberately contrary to historical truth, and publications that deny, approve or play down above all the mass murder of the Jews, planned and implemented by the Nazis."
According to the Crown Prosecution Service, agreements signed in 2003 between the UK and other European countries bind the UK to assist the German authorities.
However, some human rights campaigners have backed Toben's case, saying that his views - however abhorrent - do not make him a criminal in the UK.
Huhne warned that countries could "pick and choose" cases to apply warrants issued by fellow EU member states. He said there were good legal grounds for refusing to participate in the 2003 agreement, citing Belgium, which he said refuses to send suspects to Poland on abortion-related murder charges.
"There is a clear precedent for doing this and I think we should in this case," Huhne said. "In this country we don't tend to prosecute people for issues that we regard as issues of freedom of speech."
Huhne also said the case seemed "pretty dodgy," seeing as the offense was not committed in Germany.
Meanwhile, convicted Holocaust denier David Irving has jumped to Toben's defense. Speaking to a reporter for the Australian Broadcasting Corporation (ABC) outside Westminster Magistrates' Court on Friday, he blamed the court magistrate, calling him a "bully."
"He [Toben] came before one of the magistrates, who is one of the least friendly magistrates in London," he told ABC. "He's a bully, this magistrate, and he showed it in court.
"I think the magistrate is very loaded, and if he is the magistrate who hears the actual case, then I don't think that Toben is going to avoid being sent to Germany, where he'll be put before a kangaroo court, of course, which is appropriate for an Australian."
Irving said it was the job of revisionist historians to question governments that he said were suppressing free speech.
"I think it's a contagion that's going around the world. It began in Australia, it began in Canada," Irving said. "They're suppressing free speech where it really matters. I think if you have one version of history that is government-approved, then all of society suffers.
"It's the job of us, the revisionist historians, to ask questions, even if they're awkward questions, questions that governments don't like, and if some of us have to go to prison in the meantime, then it's tough on us but society in the long run will benefit."
Irving also said that he disapproved of some of Toben's writing. "I think that he's not nuanced enough. As a historian I do a lot of work in the archives and I write what I find in the documents. He writes what he finds in his brain."
Asked if he would put up the surety for Toben, Irving said he would personally host the Australian but that he could not provide any money for bail, as he had lost everything after serving time in an Austrian jail for "glorifying and identifying with the Nazis."
He was released in December 2006 after serving 10 months.
"I've said that if the court were to release him [Toben], he can come and stay with me and I will personally guarantee that he comes back to the courtroom on the appointed date," Irving said.