Most people I talk to have seen/heard NOTHING of this on television, even though it has been going on for some time now.
FROM: http://www.knoxnews.com/news/2008/jun/26/judge-orders-prosecutors-to-be-specific/
Judge orders prosecutors to be specific
Defense can't be built from litany of theories in fatal carjacking case
By Jamie Satterfield (Contact)
Thursday, June 26, 2008
A Knox County Criminal Court judge on Wednesday ordered prosecutors in a fatal carjacking case to answer four "Ws": what, when, where and who. In a straightforward case, Judge Richard Baumgartner's directive might pose little or no problem for prosecutors and might not even be a concern for the defense. But, as the judge noted at a hearing Wednesday, the carjacking-turned-torture-slaying of a young Knox County couple is anything but simple.
"This is a 46-count indictment," Baumgartner said. "It's just mind-boggling." Baumgartner spent hours Wednesday plowing through more than two dozen motions filed by attorneys Tom Dillard and Steve Johnson on behalf of George Thomas. Thanks to a successful speedy-trial motion already decided, Thomas will be the first of four defendants to stand trial in the January 2007 slayings of Channon Christian, 21, and boyfriend Christopher Newsom, 23.
The couple were carjacked, robbed and kidnapped, then held inside a house on Chipman Street in Northeast Knoxville, where both were beaten, tortured and raped. Newsom later was shot execution-style. Christian was held captive for several more hours, repeatedly raped, hog-tied and stuffed inside a trash can, where she slowly suffocated.
Thomas, along with co-defendants Letalvis Cobbins and Lemaricus Davidson, is charged with committing every crime prosecutors contend was carried out on the couple. Cobbins' girlfriend, Vanessa Coleman, is not charged in the carjacking but is accused in the kidnapping and rapes. None of the four is in reality accused of 46 different crimes. Instead, the indictment offers various legal theories of the core crimes, which are first-degree murder, felony murder, robbery, kidnapping, rape and theft. It is a common prosecutorial practice. But Baumgartner opined Wednesday that Thomas' defenders cannot prepare to defend him against a litany of theories and instead deserve firm facts on exactly what prosecutors allege Thomas did. "Because these events allegedly occurred over a four-day period, there's no way to tell when the state is alleging (each of several crimes) occurred," Baumgartner said. "Did these all occur at one time? Did they occur at separate times? "Was (Thomas) the one who actually committed the aggravated robbery, or is the state alleging he's going to be criminally responsible for whoever committed the aggravated robbery?" the judge asked. Wednesday's hearing came after a successful defense push to put Thomas at the head of the trial list. The grab for his Aug. 11 trial date was a tactical move by his defenders designed to seize upon a key weakness in what, on paper at least, appears to be a strong case for the prosecution - the lack of any forensic proof of Thomas' role. Prosecutors Leland Price and Takisha Fitzgerald allegedly have DNA testing linking brothers Cobbins and Davidson to the rapes and a statement from Coleman that allegedly puts her at the Chipman Street house while Newsom and Christian were being tortured and slain. Fitzgerald revealed, however, that the prosecution also has unearthed telephone calls Thomas made while behind bars that allegedly incriminate him. She did not detail the contents.
------------------------------
Hugh Newsom and Channon Christian: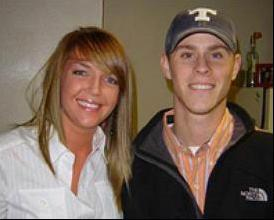 The subhuman scumbags:
Background from Wikipedia: http://en.wikipedia.org/wiki/Murder_of_Channon_Christian_and_Christopher_Newsom
According to news reports, Christian and Newsom had gone on a date at a local restaurant on Saturday, January 6, 2007, but did not return home. During their night out, the couple was "hijacked, bound and blindfolded and taken back to Lemaricus Devall 'Slim' Davidson's rented house on Chipman Street."
Christian's parents found her abandoned Toyota 4-Runner two blocks away from the Chipman Street house the following Monday with the help of her mobile phone provider. An envelope recovered from the vehicle yielded fingerprint evidence that led police to Lemaricus Davidson and 2316 Chipman Street. When police went to the address on Tuesday, January 9, they found the home unoccupied and Christian's body in a trash can in the kitchen. Forensic evidence showed that Christian had also been raped vaginally, orally, and anally. One of the suspects, Vanessa Coleman, later told police that, "she witnessed Christian's mouth being cleaned with a bottle of some type of cleaner," in an attempt to remove DNA evidence. Forensic evidence showed significant trauma caused by "an object" to Christian's vagina, anus, and mouth, and that she had died slowly in the trash can, suffocating while wrapped in curtains, sheets, and several trash bags. There was also evidence of blunt trauma to her head leading to bruising of the brain in addition to bruises found on her neck, arm, back, and anal region. Coleman also said that she had seen "clothes that were stained with blood and smelled of gas being put in the washing machine at the house." Newsom was shot three times, "his body wrapped in a blanket, set afire and dumped alongside nearby railroad tracks." Evidence has also been presented that he had been anally raped.
For the "skeptics" from SNOPES: http://www.snopes.com/politics/crime/newsom.asp